Gold Bangles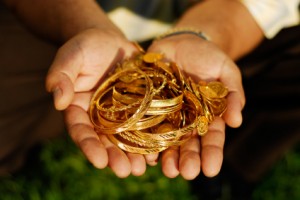 We see a huge amount of bangles coming through the doors here at ForgottenGold. These bangles were often sold as 9k gold and bought in good faith. When we test them, oftentimes we find they have no gold, or are just gold plated. (Meaning they can have anything from one fifth nine carat to one twentieth nine carat.)
Tell Tale Signs
We're always happy to test bangles at ForgottenGold for gold content, but sometimes it can be easy to tell the gold content of your own bangles. Usually it will be printed on the inside of the bangle '1/5th 9k' down to '1/20th 9k'.
The good news is that ForgottenGold.com still pay out on these bangles, so it may well be worth your while sending it into us.
Request your free gold recycle pack here.
Tags: cash for gold, gold bangles, Gold Price, sell gold